Researching Engine Production and Forecast Data Since 1976
Power Systems Research(PSR) was incorporated in 1976 in Grantsburg, Wisconsin, USA, and quickly developed a unique position in the consulting industry. Power Systems Research was the first market research company to focus on the specific needs of the engine and engine component industries.
The initial objective of the company was to provide engine manufacturers with market studies and accurate statistics of engine sales. This led to the development of the first database of North American engine sales.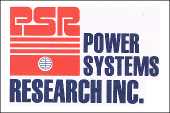 Today, Power Systems Research offers five distinct databases—EnginLink™, OE Link™, CV Link™, MarineLink™, and PartsLink™ — that constitute the most comprehensive source of market information for the engine, engine component, engine parts aftermarket and OEM equipment industries. See our Products pages for more information.
The growing demand for information on engines and power component markets resulted in the company expanding its services to include consulting efforts and specialized industry reports. Increased demand for services in Asia and Europe led to the opening of offices in Tokyo in 1982 and Brussels in 1984. Today, Power Systems Research also has operations in Beijing, Moscow, India, the Middle East and Campinas, Brazil.
Since 1976, Power Systems Research has conducted more than 3,200 diverse, targeted studies the world's leading companies.
As more and more clients were seeking primary research studies, the company purchased Compass International and its telephone call center operation in 1992. This addition enables Power Systems Research to offer full service market research including in-house interviewing and focus group capabilities.
Throughout the company's history, a commitment to customer service has led to strong and lasting partnerships with leading companies around the world.
The strength of our client relationship is built upon our ability to provide high quality research results with timely customer support. PSR
Let's Talk
Whether you want to drive growth, improve efficiency, or simply outpace competitors, you can do it with market solutions from Power Systems Research. We combine information, analysis, and expertise to help you make intelligent market decisions and avoid mistakes. How can we help you?
Contact Us
PowerTALK Newsletter
Stay informed each month with insights from Power Systems Research analysts working around the world identify and comment on important news items in the company's monthly newsletter.
Subscribe
View Archive